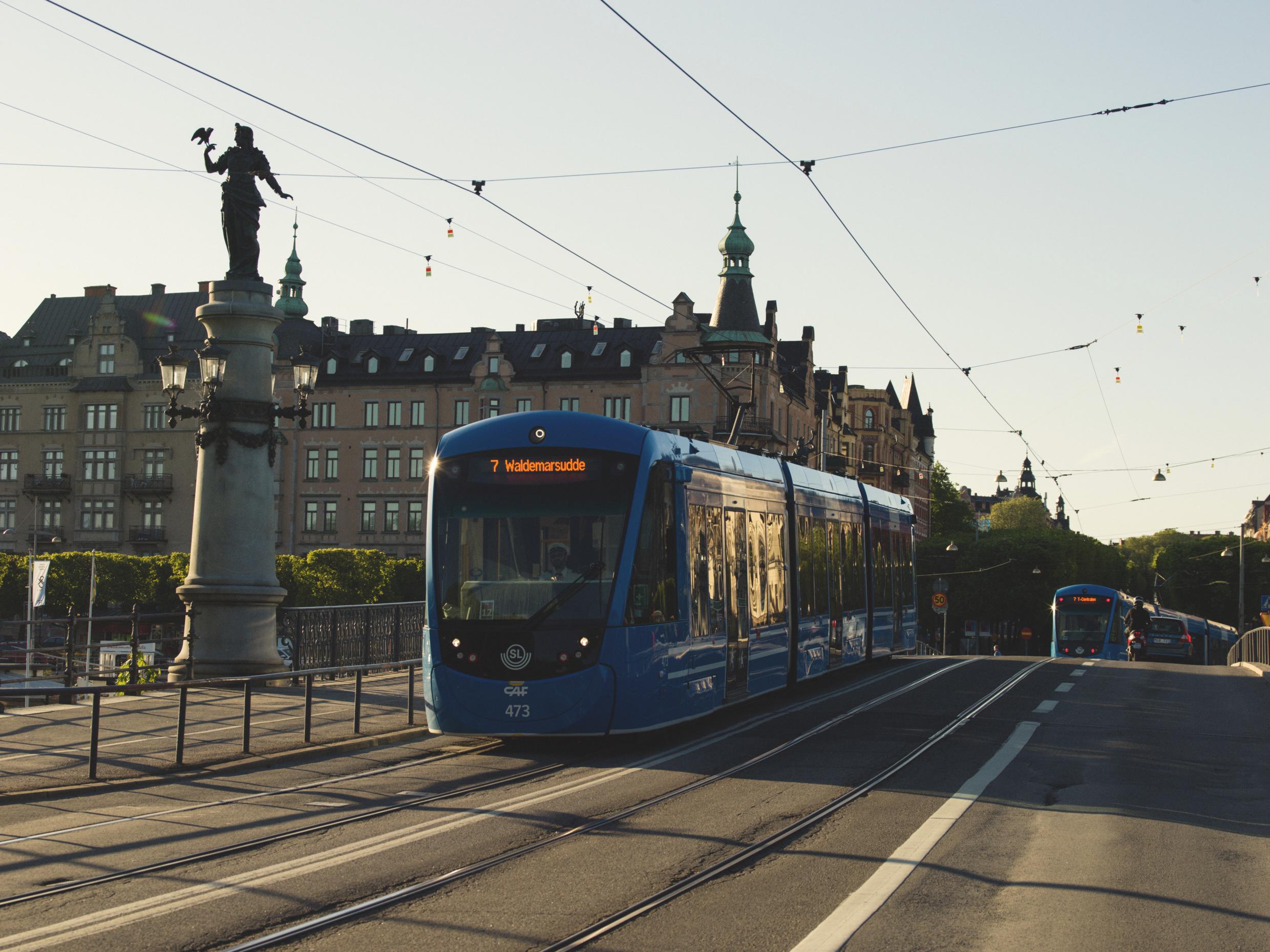 Photo: Felix Odell
Accessibility is on the

agenda in Stockholm
Accessibility is on the

agenda in Stockholm
There's nowhere else in the world quite like Stockholm. Sweden's capital is a city of contrasts – one minute, you're strolling the streets of a cosmopolitan neighborhood, and virtually the next, you can be hiking through a secluded, centuries-old forest.
In Stockholm, the old seamlessly blends with the new. Here you'll find a wide selection of classic and contemporary hotels, cultural sites and museums, shops, restaurants, cafes and bars. But what truly sets us apart is how close you always are to swathes of unspoiled nature. And how remarkably easy it is to explore – even if you're only here for a short while.
From the moment the plane touches down, navigating your way around is hassle-free. Five airports serve the region: Stockholm Arlanda (ARN) is our main international airport but we also have Bromma (BMA), Västerås (VST), Skavsta (NYO) and Linköping (LPI). Our airports have convenient links to the city – hop on one of the regular airport buses (Flygbussarna), and you'll be ferried straight to the center. Read more about the various airport transfers here.
Stockholm Arlanda Airport is a world leading sustainable airport and the first in the world to become carbon neutral in its own operations.
Stockholm Arlanda Airport is the first airport in the world to be accredited the highest level in a European program that grades the environmental impact of airports.
Stockholm Arlanda Airport holds an ISO14001 certification.
"Green approaches", a system permitting approaching aircraft to descend continuously from cruising altitude to the runway, using almost no engine thrust, thereby saving fuel and reducing emissions.
Arlanda Airport Express trains, operated 100% on electricity that carry the "Good Environmental Choice-label".
Eco-labelled airport coaches (bio gas/ethanol buses). 100% fossil free.
Only ecotaxis serve Arlanda – an important part of the airport's continual environmental efforts.
Possibility to go to/from the airport by commuter train.
Congestion tolls to reduce traffic into the city.

Several major ferry lines serve the countries around the Baltic Sea. Regular services run from Finland, Poland and the Baltic states, with large passenger and car ferries docking at their own terminals not far from central Stockholm.
High-speed trains are a sustainable alternative for conscious travelers and those who prefer to take in the scenery. Stockholm Central Station is our main transport hub and is also connected to Cityterminalen, the main hub for regional and international bus travelers.
A walkable city
Once in Stockholm, it couldn't be easier to get from place to place. If you have some time on your hands, explore our city on foot. Otherwise our safe, punctual and efficient public transport system - which includes trains, trams, buses and boats - makes it a breeze to get from one side of the city to the other.
Extensive and environmentally friendly local transport system that ranks among the best in Europe.
The city's subway system features more than 100 km track and 100 stations and the entire underground system runs on green electricity
Well-maintained and modern subway, trams and commuter trains.
Most buses and taxis run on bio-fuel and/or are eco-labeled.
900 km of bicycle lanes and a community rental program for bicycles, E-bikes and E-scooters.
Stockholm is a compact city with almost everything within easy reach. This reduces the need for transportation and thus carbon emissions - walking is one of the best and most beautiful ways to get around in the city!
Need to ask for directions? Not a problem. Swedes start studying English in school before age 10 and never turn down an opportunity to practice. You won't have an issue communicating with the locals wherever you go in the city.
You won't experience any payment faux pas either. There's no need to make sure you've got cash to pay for the taxi or for that on-the-go coffee. Stockholm is a virtually cash-free city, and many restaurants, shops and hotels don't accept coins or banknotes. You only need your bank card to cash in on our city's many delights.
Ready to start planning your event? Find out more about traveling to and around Stockholm.